Infinite Z-axis Printing, Batch Print, Rolling Conveyor Belt, Ultra-silent, All You Need is a Creality3D CR-30 3Dprintmill
Are you a creator whose ideas shouldn't be limited to a small printing area? Are you frustrated by the one-by-one nature of your current 3D printer? Are you convinced that you can't solve these problems without tripling your budget?
With the CR-30 3D PrintMill from Creality3D, you can leave these concerns in the past. From the minds of Naomi Wu, Bill Steele (Polar3D), and Karl Brown (NAK3D), this printer features a 45°-angled hot end that results in the availability of an infinite z-axis for your projects. This combined with the 3D PrintMill's conveyor belt structure means that you can do batch printing completely unattended—no need to stand by to manually pry off every model or re-level the bed after each print.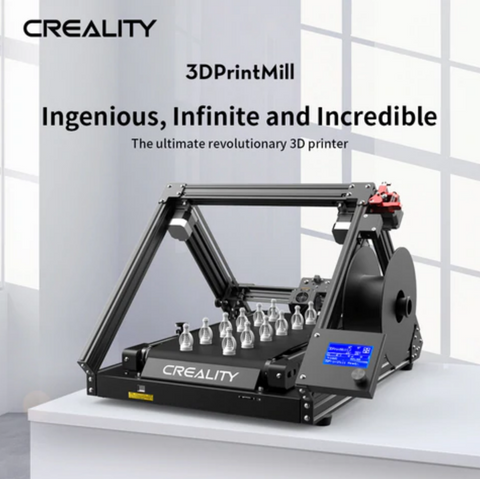 A breath of fresh air for any 3D printing enthusiast, this printer opens up a world of possibilities, from larger and more ambitious pieces to armies of miniatures. The batch doesn't even have to be the same design on repeat; the print queue allows you to put whatever you want in line to be printed next. 
If you're someone who runs an online shop with many different printed products or you want to assemble something with a lot of individual parts, this is an ideal setup for you. Because the need to directly handle the models and machine has been removed, the 3D PrintMill is also good for art teachers who are concerned about students burning themselves on the hot end or getting cuts from tools used to pry models off the bed. Students can simply wait for their projects to move down and off the belt rather than needing to put their fingers near hot or sharp metal. People with reduced motor function in their hands and arms can also benefit from this design, with the risk of injury due to unsteady hands being drastically reduced thanks to the largely hands-free nature of this printer. Additionally, the infinite z-axis is the perfect feature for those who need to make long props for set design or cosplay and don't have the funds or the space for a printer with a larger bed.
Although its standout characteristics—the conveyor belt and "infinite-z" print capacity—may set it apart from other high-caliber printers that don't have these aspects, the 3D PrintMill still remains accessible to a wide array of creators by aligning with a similar price point. What's more, the metal-based, plastic-free design ensures durability in the long term. Overall, this printer will function as a highlight of any artist's arsenal of tools with its versatility, expanded print area, and high-quality construction, all without breaking the bank.